A writer for a climate denial blog named "NoTricksZone", Michael Brakey,
published a blog post
a little under two weeks ago mocking several mistakes NOAA allegedly made in an update to their US surface temperature dataset, namely impacts that happened in Maine. Deniers seem to be grabbing ahold of Maine and wringing it dry because the impacts to past temperatures are greatest in that state.
Ironically, for wanting to point out these mistakes, Brakey hasn't quite done his homework and picked his own bouquet of oopsie-daisies.
I won't waste too much time in addressing some of the silliness in his post, such as him for some reason pointing out the 2015 monthly temperatures to date are very cold, as if one or two points will reverse the trend in the data that he's allegedly complaining against (there, finished with that part); but I will address his "shocker!" find, that the Southern Interior climate division in Maine is colder than the Northern climate division, even though it is further south, i.e. closer to the equator and more coastal.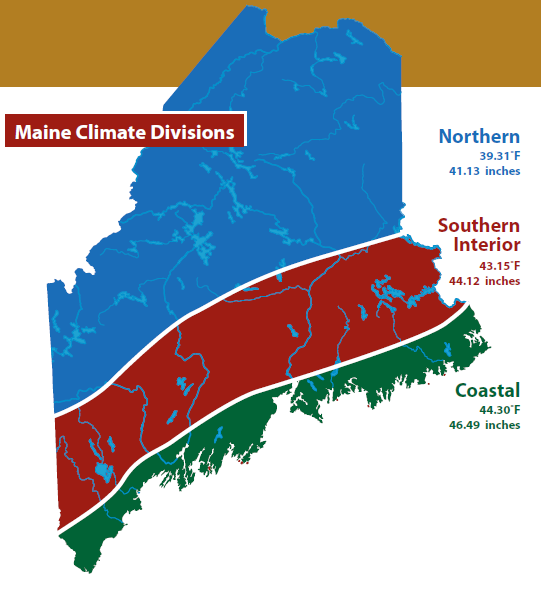 Double checking this allegation is rather easy to do: we can go to
NOAA's US climate data pages
and graph out (or simply download as I did) the average annual temperature for the Southern Interior climate division, and the Northern climate division. The Southern Interior is warmer.
So clearly Brakey made a mistake somewhere. He points out that the average "heating degree day" (HDD) count for the Southern Interior is greater than for the state as a whole. A "heating degree day" is a number given to a temperature that is below 65˚F (standard threshold), and is the number of degrees below that threshold that it is. A day which does not go below 65˚F for an average temperature is not a heating degree day, and its HDD count is zero. If the average temperature for a day is, say, 59˚F, then the value it is assigned is 65 – 59 = 6, units ˚Df. It is used as an energy consumption metric, as a measure of how much work a heater would have to do to keep a building warm (as heaters are controlled by thermostats). Since it is by convention a measure from an agreed-upon temperature, it is also a measure of how hot or cold some time span is: more heating degree days means it is colder outside.
Brakey is correct that the Southern Interior climate division has a average higher HDD count than the state as a whole, according to NOAA. That would make it seem like southern portion is colder on average than the rest of the state. Since the Northern climate division is pretty large, Brakey extrapolates this to conclude that the Southern Interior is colder than the Northern climate division.
But the average (from 1895-2015) HDD for the Northern climate division is 9845 ˚Df, and the average for the Southern Interior is 8381 ˚Df.
So the north is clearly colder than the south. However, why is the statewide average then 8276 ˚Df, which would indicate the south is colder? Well that's because there are three climate divisions in the whole state (see the big Maine above), the third being Coastal with an average of 7868 ˚Df.
The statewide average includes the HDD count from the warm Coastal climate division as well—but it's such a small division, how could that have such a strong impact? Well that's because most of the people in Maine live on the coast or just inland from it, and
NOAA weighs the regions by population density
to better represent energy usage:
2. State, Regional, and National Data
Degree days are estimated for State climate divisions and then population weighted to more accurately reflect temperature-related energy consumption at the State, regional, and national levels.
That is, after all, the purpose heating degree days are intended to serve anyway, not actually telling you the temperature. There's real temperature data for that—I graphed it above, apparently something Brakey did not do. Could have saved some trouble that way. Plain and simple, NOAA did not make any mistakes here; Brakey did. But I think that's ultimately OK, he tried his best.